IT'S HAPPENING AGAIN!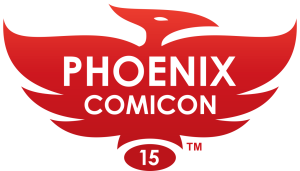 Yes!  It's the very best time of year, where people dressed like ninjas and people dressed like robots come together for the purpose of buying swag and seeing authors make fools of themselves!
IT'S PHOENIX COMICON, MOTHERFUCKER!
You probably came here to find out where I'll be.  Can't say I blame you.  I'm pretty great.  I would want to hang out with me, too.  And it's true, I have a full schedule this year, including an event that I sorely believe you should attend!
You can find my schedule here, but just so we all know:
WEDNESDAY, MAY 27th.  
7 PM: ELEVENGEDDON!
At The Poisoned Pen bookstore in downtown Scottsdale, there will be an immense book signing event going on featuring an incredible list of authors!  Kevin Hearne, Richard Kadrey, Delilah S. Dawson, Myke Cole, Naomi Novik, Brian Staveley, Brian McClellan, Wesley Chu and many more will be in attendance!
For a full run-down, check out Kevin Hearne's blog post.
But what if I can't make it, Sam?
I'll be running a Periscope livestream broadcast of the event under the hashtag: #Elevengeddon.  All you need to do is download the Periscope app on your smartphone or computer and be on twitter and following me when the event comes.  Just click on the link provided and it'll be JUST LIKE BEING THERE!  WOW!
THURSDAY, MAY 28
6:00-7:00 PM: Unlikely Influences
Location: North 125
We always talk about the classic books that influenced us.  But what about the offbeat influences?  Anime?  Comic books?  Movies?  Video games?  Join me, Django Wexler, Mur Lafferty, Naomi Novik and Myke Cole as we talk about all the not-books that have shaped our craft!
FRIDAY, MAY 29
How Big Can It Get?
3:00-4:00 PM.  Location: North 125
Here, we'll talk about the perils and pitfalls of epic fantasy: the bigness.  How big of a fight scene can you get away with?  How big can the cast get before it's too confusing?  How far can you go before the reader loses interest?  Myself, Django Wexler, Brian McClellan, Brian Staveley, CJ Hill and Jay Posey will discuss!
The Food of Fantasy
4:30-5:30 PM.  Location: North 125
Feast scenes.  FEAST SCENES.  FEEEEEEEAST SCEEEEEENES!  What do they add?  Can they be made into an interest form of worldbuilding and lore?  Or are they just a LESSER FORM OF PORNOGRAPHY?  Join me, Beth Cato, Kevin Hearne, Weston Ochse and Brian McClellan to find out.
Author Signing
6:00 PM-7:00 PM.  Location: Exhibitor Hall, Table 16132
SATURDAY, MAY 30
Mother Trucking Monsters
10:30-11:30 AM.  Location: North 125
We're going to talk all about monsters.  It's not enough that they simply be scary.  They need to make sense in a plot and logical capacity as well.  And we've got some of the best monster-makers out there to talk about it.  Join me, Peter V. Brett, ML Brennan, Kevin Hearne, Cherie Priest and Wesley Chu!
Author Signing
12:00 PM-1:00 PM.  Location: Exhibitor Hall, Table 16132
AUTHOR BATSU GAME!
4:30-5:30 PM.  Location: 124
YES!  Once again, it's time to indulge that most heavenly of sports: the Batsu Game!  Seven contestants–Myke Cole, Peter V. Brett, Cherie Priest, Leanna Renee Hieber, Pierce Brown, Scott Sigler and Delilah S. Dawson–will be tasked with one goal: do not laugh.  Those who laugh will be severely punished by ME!  Last year was a tremendous hoot and I hope you'll all join us again this year for MORE BATSU!
DRINKS WITH AUTHORS!
6:00-9:00 PM.  Location: Sheraton Hotel.
Come drink!  With authors!  Literally every author feasible will be at the Drinks With Authors gathering at the Sheraton hotel!  Come schmooze!  Party!  Put liquids in your mouth!  See Myke Cole rave about the state of the world today!
SUNDAY, MAY 31
Writing Reluctant Heroes
10:30 AM-11:30 AM.  Location: North 125.
There's a lot said for the brave and the bold, but how do you write the coward and the craven in a way that's compelling?  We'll join together to discuss unlikely heroes in extraordinary situations.  Join me, Brian Staveley, Leanna Renee Heiber, Chuck Wendig and Richard Kadrey to find out!
Stepping Up to Social Media
1:30-2:30 PM.  Location: North 124
This will be an hour of me, Myke Cole, Chuck Wendig and Kevin Hearne yelling at each other.
Author Signing
3:00 PM-4:00 PM.  Location: Exhibitor Hall Table 16132
And that's it!
If you don't happen to make a signing, but still want me to sign something, that's no problem!  Just find me at some point (if I'm not at a panel, I'll usually be downstairs in the Exhibitor Hall near the author's alley tables) and I'll be happy to sign anything!  Books!  Comics!  Babies!  Wives!  Crocodiles!  Pharaohs!
See you there, friends!