WonderCon & Mysterious Galaxy Signings!
HOLY SMOKES!
We're a little over a week out from the release of The Mortal Tally!  If you liked The City Stained Red (and presumably you did, if you're at this blog), then you're probably as excited as I am for the release of this book!  Maybe even more excited since you don't know who dies!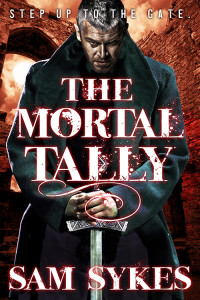 …er, forget I said that.
Anyway, as zero hour approaches, let's talk about some cool stuff that's happening!
If you're going to be in Los Angeles for WonderCon, Thursday 24th through Sunday 27th, you've got a deal of a god damn lifetime going on!
My appearances are, as follows:
Panel: Getting to the Point
Getting to the Point—SF/F authors Carrie Vaughn (The Kitty Norville series), Peter Clines (The Fold and the Ex-Heroes series), Arwen Elys Dayton (The Seeker Series), Sam Sykes (Aeon's Gate Trilogy & Bring Down Heaven's Gate series), and Brian Staveley (Chronicle of the Unhewn Throne series) discuss the pointy strategic bits of weapons and battle tactics as their characters battle for causes from the mundane to the sublime. Moderated by Maryelizabeth Yturralde of Mysterious Galaxy. 
Los Angeles Convention Center.  Room 151.  Friday, March 25th.  12:00 PM to 1:oo PM.  Signing to follow!
Signing: Badali Jewelry Booth #1103
More details here!
I'll be signing copies of my book, any book, you show up with!  You need a ticket, but the ticket is FREE!
In addition, I will have a very limited number of copies of The Mortal Tally to giveaway.  It'll be a first come, first serve situation, so HUSTLE THERE!
Booth #1103.  Saturday, March 26th.  3:00 PM to 4:00 PM.
And then…the big one…the super important date…
THE MORTAL TALLY DEBUT AT MYSTERIOUS GALAXY ON MARCH 29th!
That's right!  I'll be at Mysterious Galaxy Bookstore in San Diego next Tuesday to sign copies of The Mortal Tally!  (Preorder link included so that you can take advantage of this coolness!)
Mysterious Galaxy have been steadfast supporters of mine for a long time and I'm super pleased to be able to see my newest book released into the wild under the loving care of their fancy-ass bookstore.
There will be books!  There will be sass!  There might even be some fancy authors you weren't expecting to see there!  Holy crap!  I hope you'll come by and see us!