The Mortal Tally: Kill Demons, Get Money
The time has come, friends.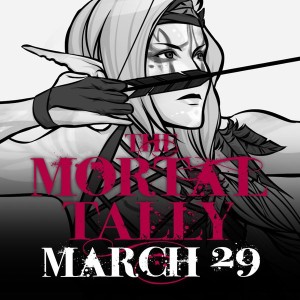 In a little over two months, The Mortal Tally, the second book in the Bring Down Heaven trilogy, will be available for purchase.
And that means it's time to PREORDER!
As an author, preorders are pretty great for me.  My editors are able to look at it, see that people are excited for my book to come out, and then they quietly take the shells out of their shotguns and put them back under their desks for another day.  I really can't overemphasize how important and great it is for you to preorder books from authors you love and support.
But, as you know, before I was an author, I was a big, weird nerd.  And amongst my many nerd hobbies, I was that most insidious breed of geek: the gamer.
Preordering has a special correlation to people who play video games.  Showing dedication and support is all well and good, of course, but what's even more important than that is PREORDER BONUSES.
Back in the day, I would preorder merrily, whining to my parents that I absolutely, simply had to have such coveted prizes as cloth maps, limited-edition figurines or soundtracks to the game's score which I would later play when I was in a car with a girl I liked and that's why you don't have grandkids right now, mom.
Now, admittedly, it's pretty expensive to make cloth maps and figurines, and since this is a book, the only soundtrack it would have is the sound of my screaming.  But I can do the next best thing: artwork!
Here's the deal my friends.
1. Preorder The Mortal Tally from your favorite outlet.  
We've got a bunch of links to help you do that right here!  If you're on Amazon, you can find it here!  And if you'd rather support an independent bookstore, consider placing at an order for a signed copy from The Poisoned Pen!
2. Take a screenshot or show evidence of it.  Perhaps put it in a tweet?
3. Mail it to me using my contact sheet here with the subject title: "I PREORDERED AND I AM A GOOD PERSON"
4. I will email you back an astonishingly awesome wallpaper, done by the amazing artist, Chanh Quach!
A tantalizing hint of that awesome wallpaper, you have already seen above.  I guarantee that the final edition is even more incredible.
You have until March 29th to let me know!  After that, you'll have to settle for my regular ol' undying gratitude.  Like some kind of chump.
Chanh, bless her, put so much amazing work into this wallpaper.  I'm so immensely pleased that people love my work enough to help me out in such astonishing ways.  And I am very keen to share her majestic prowess with you, my gentle readers.
So I hope you'll take advantage of this!  It is the only way to keep me from haunting your dreams!
Opportunity is knocking.
It's me.
Buy my book.