Recognize this fucker?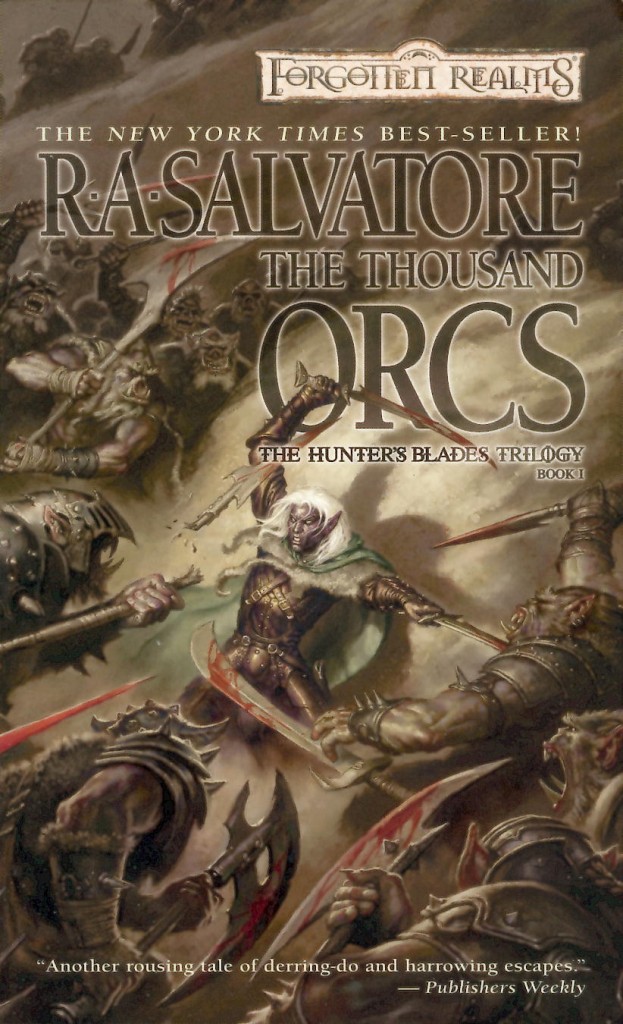 Chances are that you probably do if…
You were ever fourteen.
You ever read fantasy.
You were ever a young male.
That's not to say that, if you're not a fourteen-year-old boy, you didn't read Drizzt Do'Urden novels by R.A. Salvatore.  That's merely to say that you probably stood a higher chance of encountering this oft-misunderstood chaotic good rebel and his amazing adventures if you were.
And why wouldn't you?  The character of Drizzt Do'Urden was tailor-made for you.
He's misunderstood and unfairly judged by his peers and society.  He's a whirling dervish badass with two swords and a magic panther and spells and shit, but he only kills when he's forced to, so he can't be held morally responsible for the millions of corpses left in his wake.  He attracts ladies like nobody's business, but he's so virtuous he never gets laid.
There's likely some readers out there who are about to leap onto their keyboards and rend me asunder for the glaring inaccuracies of my summary of our favorite ranger.  I'd advise those people to relax, since we're not talking about Drizzt much further than this paragraph.  Not directly, anyway.
The idea of cover art routinely weighs heavily on my mind.  Not just because I'm routinely crucified for mine, but because it's a frequently touchy subject in fantasy genre.  With good reason, it's basically a free blog post, requiring little more than putting it up and going "ugh" or "not so ugh" and not having to think too hard about it.  Now there is a tremendous debate between bloggers and publishers between what's good and what actually sells, but I'm far too much a coward to talk about that today.
But in regards to the fact that this is a frequent subject of concern for me, and regards to the fact that I've had Drizzt on the brain lately, I had a look at several of his covers.  They touch on all the bases that make bloggers tear their hair out: magic animal companions, glowy weapons, bare midriffs, and…whatever's going on here.
My reactionary process to these covers, and covers like these over the years, have evolved from a singular to multi-part process.
When I was fourteen, I would look at them and think: "Damn, I like that."
When I was twenty-five and starting to read blogs and learn more about fantasy, I would think: "Man, stop.  You shouldn't like that."
And now that I'm twenty-nine and slowly losing patience and brain cells, I think: "Wait, why shouldn't I like that?"
The reasons for why these covers are so heinous range from the simple ("it's cheesy," "it's stupid," "it's too D&D-y") to the complex ("it's not realistic," "it's not artistic," "it's just tits and swords").  But the general reason we seem to fall upon, as a fantasy genre: "it looks like a fantasy cover."
That would fall under the category of simple were it not for the immense amount of baggage that came with the idea.  For some reason, fantasy fans (or at least, fantasy fans who frequently talk about the genre) have an immense problem with being identified as such.  And if you pay at all attention, it almost always links back to the desperation to be accepted by that successful and respected older sibling: mainstream literature.
Fantasy always seems to be in a very big hurry to grow up, or at least to be seen as grown-up, hence why all we seem to write about these days is rape and widespread murder and all the other stuff we used to think made us look more adult when we were seventeen (note: I am not saying that these subjects, books or authors are inherently childish, but equating maturity with sex and violence certainly is).  To that end, we get frustrated when people point at our magic wolves, our glowing weapons, our three-headed liches and say "looks like you've got some growing up to do."
And maybe it's just me for whom this particular criticism isn't having a lot of effect on anymore.  Maybe I'm getting too comfortable in my ways.  Maybe I'm not thinking hard enough.  Maybe I'm just too old to continue to give a shit over whether anyone might see me enjoying this stuff.  But the fact of the matter is that I'm having a much harder time caring about what other people are thinking of me.
And I'm not alone.
I mentioned last week that I believe that the geeks at New York Comicon and other joints are the future.  And I stand by that.  But one thing I was struck by at these displays of passionate geekery was the complete and utter lack of shame.  Quite the opposite, being excited and enthusiastic about this sort of thing was considered praise-worthy.  Squee-worthy, even.
I liked that.
And I find that, the older I get, the more comfortable I am with admitting that there are things about fantasy that I like.  Not that this wasn't obvious to anyone who has read my books rife with exposed skin, sword fights, magic shenanigans and fiery urine, but it's kind of refreshing to just look at the shit you're writing and say: "Yeah.  Actually, I really like that.  That's really fun."
Let me tell you, I am a lot happier being able to take "fun" as a positive.
I've talked about this before, but we've got a problem with the word "fun."  It's inherently negative from a critical standpoint.  "Fun" has become coded for "unthinking, unchallenging, uninteresting."  We apologize for it.  We say it with a wince.  We look at it and sigh and it doesn't even occur to us once how immensely insulting it is to readers to attach that connotation to it.
Sure, it'd be a problem if things were only fun.  But–and it's downright embarrassing to have point this out–there isn't such a thing as a reader who feels only one emotion.  And it's kind of troubling that we seem to think there is only one definition of "fun."
This was touched upon by Justin Landon's blog, but what gets my goat about the high and mighty declaration that "fun" is inherently trivial is the idea that fun does not engage.  The idea that a reader shuts her brain off when reading–and take a moment to appreciate just how ridiculous that idea is–is downright mistaken.  The idea that a reader gets nothing out of a book that they're having fun with save some mindless faffery is mind-bogglingly stupid.
How do I know?
Because I used to read Drizzt novels.  So did a lot of my fellow authors.  Like it or not, we got something beyond just fun out of those books and it shaped our writing.
I'm sure some asshole out there could chuckle blithely at that statement, stroke a goatee and say "case in point," but I give about as much of a shit about them as I do about mainstream literature giving a shit about what I read.  I just don't have enough shits left in me to spend on people having opinions on how I enjoy myself and whether or not I'm enjoying myself properly.
And here's a tragic secret about writing: it's selfish as shit.
You can write only for yourself.  If people love it, then great.  But no one's going to love it if you don't love it first.  And if you're possessed of shame for enjoying what you enjoy, you're not going to be writing what you love.  You might achieve that perfect nirvana of becoming an anti-fan, pointing out the great and glaring flaws of the genre you despise but can't get away from and otherwise masturbating furiously to your own genius on the page.
But maybe I'm just speaking for myself here when I say I find that more tiresome than a dude with two swords on a cover.