Ask The Companions Part I: Love is Dead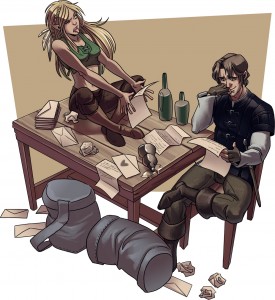 A fine day to you all, lovers old and young, washed and filthy.  We remain ever so pleased that you had no other obligations on this day of affections, coerced or non, than to come and learn at our feet.

Ugh.  How did we get roped into this again?  Did no one realize that we were just making it up as we went along last time?

You're ruining the illusion here, you know.  We're supposed to be presenting ourselves as experts in matters of relationships.

What?  How?  The only time you're ever vocal about the subject is when you're either drunk or crying or both.  And I don't have much to say about it that you couldn't learn from picking at scat.  That's a trick they never tell you.  Forget wine and flowers and whatever.  Everything you need to know about someone, you can find in their shit.

…okay, so a really great anecdote there.  But why don't we see what our young lovers have to ask us today?  Our first letter comes from someone who would (perhaps tend-settingly wisely) prefer to remain anonymous…
Dear Kataria and/or Denaos,

I must admit I'm in quite the romantic pickle. It smells a bit.

My attraction to a small group of people flickers on and off like a faulty… flickering on and off thing. I feel it almost nowhere in my body, yet I feel the need to pursue it. It usually flickers on when something reminds me of that person, or something we talked about, or during discussions with them. Something will just happen in my head and I'll suddenly be like a beast in heat. Typically it passes soon, but can burn for days before working itself out of my system, especially if I've recieved a comment that could even be potentially interpreted as flirtatious.

Annoyingly, to make it worse, I never really feel like I want anything. I might get ideas in my head, but my heart isn't in it. It's like I'm just chasing wild geese for the sake of it.

My mind, heart and… y'know really aren't aligned on this. Is it just the attention I crave, or is there something deeper there? Or am I just completely and utterly hopeless?

Hoping you can help,
The Grav- Uh, Anonymous Person.

Ah, truly, there is no love like group love.  The delicate dance between two people and however many other open-minded individuals, the collective thrusting, the choral grunting, the sensation of something brushing against a bare buttock and you're not sure if that's a foot or what but you don't want to seem prudish so you don't say anything and then later you wish you had but—

Ahem.

Oh, right.  I expect you want to talk about the beasts in heat.
The only real way to know, my dear anonymous person, is to explore.  Too many people are prepared to accept attraction as a game.  There are two players, you earn points by giving flowers, you lose points by forgetting which brand of wine she likes and saying things like "you know, your sister has been looking especially lovely, lately, and I've got nothing but time."  And then you either win, and you get married and wait patiently to die (or her sister starts looking especially lovely), or you lose and try again later.
It's not a strategist's game, though.  It's a young person's sport.  And because it's a young person's sport, brains hardly enter into it.
Your attraction is the only certainty you possess, no?  And thus, it's all that you can act upon.  Give yourself the favor of exploring your feelings, getting to know them as intimately as you should.  Try pushing a little further than what the heart says it wants, see if it goes anywhere.  When the passions burn hot, follow them!  When they cool, take the time to reflect upon it.  It could be that you're merely especially fond of a companion, but not to the point of outright adoration.

That was almost helpful.  I'm waiting for the bit where you say something about foot rubs or paddling.

The aim is to be helpful, isn't it?  Now, if you want to talk about paddling, we'd have to lay down a primer with Sheddukkul's Theory of Wailing Palms, which clearly states that–

Moving on.
Dear Kataria, dear Denaos,

This year, and as every year, there will be the day of fear. The day of shame.
Valentine's day.
So i have a question for you :

how to avoid giving a gift to his girlfriend, knowing she will not like, but knowing also that come empty-handed means a plunge into the depths of hell?
Should we flee or come boldly inviting restaurant armed with a crossbow?

My life depends on your answer, so I offer you my gratitude (and two hundred pieces of gold chocolate)

You talk about courtship like it's a fight.
I like that.
So, here's what you do: you clench your teeth, you stomp your feet, you take a deep breath and you run headlong into that fire.  Show up in front of her with nothing in your hands and a lot of fire in your heart and tell her that it's not about the gifts or the candy or the wine.  These are just overtures, attempts to distract each other from the crushing reality of your situation.
What you bring her today is anger.  What you bring her is passion!  She'll be staring you in the eye right now, nostrils flaring, jaw about to crack with how much her teeth are grinding.  You look her right in the eye—look away and you're dead—and you tell her that the anger she's feeling right now is what you've got.  This is real.  This is you.  This is her.  And every passion between you is infinite and can't be drank or eaten or read and tossed in the trash.

Uh…flowers are also nice.

Oh, yeah, definitely get flowers.  She might buy this and it'll mean stuff, but after you explain all this, she is going to be pissed.
Dear Kataria,

I am worried that my marriage is failing. I keep reading about how the way to keep a man interested is to spice things up in bed, but my husband REALLY didn't like it that I shook paprika all over the sheets. Now I'm afraid he's going to leave me for good, and take the cats with him. What should I do?

Any advice gratefully received,
A Spicy Señora

Never before have I been so disappointed that a letter wasn't addressed to me.

Well, it wasn't, so shut up.
See, what you're doing here is taking things a bit too literally.  I sympathize, though.  Human euphemisms are pretty complicated.  What you need to understand is that "ism" is an article of human speech that basically means "I don't know what I'm talking about, but I want to sound smart."  Once you accept that, dealing with them becomes much easier.
Now, in regards to this particular euphemism, I got confused, too.  When they say "spice things up in bed," you immediately think to throw spice everywhere.  What you need to pay attention to here, though, is the key words "in bed."  You're not supposed to sprinkle spices on your human, you're supposed to stuff their beds with it.  The resulting combination of spices and various night splooshes—

Night what?

MY TURN.  SHUT UP.
Anyway, the essence of the spice is released via the fluid.  While he sleeps, they will fill his subconscious nostrils and affect his brains, causing his moods to turn depending on what you put in there.  Paprika will him sassy and rebellious.  Black pepper will make him angry and vicious.  I suggest stuffing a little bit of a cayenne in his mattress.  Just the right amount will make him hurt all day, thus causing him to rely excessively upon you and fear for his life if he should leave.  Not too much, though, or it'll just make him useless.
The human brain is a complex piece of machinery.  But like all machines, if you give it a good whack, it starts working again.
Dear Kataria and Denaos,
I am a hermaphrodite who has a unique position when it comes to physical relations with my significant others (yes, the plural is intended) since I can fill both the male and female roles. Unfortunately, this leaves me stuck in the middle during our (the couple that I am intimate with) lovemaking sessions and sometimes I just want to be filled or do the filling, as opposed to both at the same time. How should I approach my lovers to let them know that I feel this way and, if they won't respect my feelings, how do I make them respect the way I feel?

What you're failing to appreciate here is your negotiating power.
Love is much like economics, see, in that supply and demand constantly factor in.  One person has an ample supply (of affection, expensive liquor, buxomness or sometimes just a really nice liquor you'd like to try) and the other one has to demand of his or her own body and soul to complete whatever demeaning, rage-inducing or otherwise unpleasant activity task is necessary to access that supply.
See, you've got a unique opportunity here to be both supplied and demanded.  Enter this less like a polite request and more like a hostage negotiation.  Make your position clear, state your power and then wait for them to blink.

…or you could also just be honest.
You can't really make anyone respect you.  If they don't, then they aren't worth the time or effort it took to know them and you certainly shouldn't spend any more on them.  Tell them what you want.  Tell them why you want it.  Tell them if they don't respect that, they can find someone else.

Well, if you want to be boring about it, why not do an hour-long presentation to go with it?
Dear Denaos,

Seeing as your undoubted success with the opposite sex, I humbly ask for your help.

How do I ensure my woman remains happy? Just giving her what she asks for does not seem to work, seeing as her desires are like the wind, constantly changing. I tried keeping her drunk for a while, but the fallout was something awful.

Any tips or ideas would be useful.

The temptation to keep someone drunk as a means of keeping them happy is pretty tempting, isn't it?  And why wouldn't it be?  Drinking immediately increases happiness, confidence and instills within you the intimate knowledge that people who once publicly declared their desire to shove you to the ground and urinate on you are privately dying for your affections.
But every peak has a valley. The higher you climb while drunk, the further you have to fall.  The more you swig one night, the worse the morning is afterward when you wake up and you're not sure who's in bed next to you but they have hair in two different places that you should not have hair in and there's some face paint nearby and at the end of the bed is a dog.
And the dog is just watching.
And you know he knows, but he's not going to tell you.

What…where do you go at night?

The flaw that most men (and women) make is that tempestuousness is a bad thing.  Some people believe that because something is inconstant, then it is somehow flawed.  We view people in the same way we view houses: if it's still, sturdy and serves a function, then it's good.  If it sways, crumbles or occasionally gets up and moves somewhere else, then it's not so good.
What you need to do is appreciate the changing winds, my friend.  Don't feel that just because she wants something else today, she's being unreasonable.  If she wanted the same thing every day, she wouldn't be a person.  She would be a house.  You can grow quite fond of a house, but you can't love it in the same way you love the wind.
And the only way you love the wind is if you let it take you all over the land.
Why do I keep getting men answering my ad in MERCENARIES, INC wanting casual sex? I mean, I put in there I have no desire for players and want a lasting sword relationship. THEN, when I answer their note with statements like, "Anyone with a modicum of intelligence should be able to read and see I am not interested in a player. They get upset and call me a b—-. I can barely restrain myself from getting my sword and cutting off their head. Maybe I shouldn't restrain myself with this, but the local police get upset with headless bodies. :::sighs::::

I just want someone to cover my back when we are out pillaging and earning some extra coins. Someone who will help me look over the contracts and figure out which one we should take so we can retire to that manor house on the hill I have been looking at. It has a great view and comes with some very industrious serfs. It would be a good retirement home…maybe open up a sword and mercenary school… :::sighs dreamily::::

So what do you think? Have you got some good advice for me???

So, what is it with humans associating swords with sex, anyway?

How is it not obvious to you?  A tremendous, elongated object held firmly between two hands, thrusting violently with the chance of someone getting impaled or at least losing an eye…
It's a dance, two bodies forever entangled in a coy game of parry and riposte.  The very act of sword fighting is sexual in nature.

Wait, this analogy is confusing me.  Doesn't a sword fight largely consist of taking those two tremendous, elongated objects and whacking them against each other for a bit first?  Like, before the impaling and what have you.

Look, if you say it like that, of course it–

And then what happens after that bit?  At the end, someone's dead, so…is that sexual, too?  Like, when you kill the other person, did you…did you win?  How do you win at sex?

Look, you might be overthinking it a bit.

No, no.  I think I've just about got it.  Clearly, the sword is a euphemism for the, uh, "sword."  So, if I'm to understand this, two people come together, lower their trousers and get their "swords" out.  After which, they smack their "swords" together for a bit, maybe occasionally grazing each other across the cheek, and then there's a mighty thrust and someone loses an eye at the end, then someone is declared the winner.

…

And you think this is pretty sexy.

…

Wait!  It takes two swords to sword fight, so does that mean the only way to win at sex is between two–

Okay!  So, anyway, just keep searching, dear reader.  Eventually, you'll find the love of your life.  Persistence, you know!
I'm afraid that's all the time we have for now.  Come back in a few days to see just how many more letters you sent in!  And hopefully there will be more liquor on hand.