What I Did Today Instead of Working
WHERE ARE YOU
(trailer script)
OPENING
Begin panoramic shot of a vast, unnamed metropolis teeming with life.  As we hover over the skyscrapers, the music begins to build softly, establishing a dark, dire theme.  Voiceover of VELMA and SHAGGY.
VELMA
"So, how are you doing today, Norville?"
SHAGGY
"Huh?"
VELMA
"How are you adjusting to the medication?"
SHAGGY
"Oh.  Right.  I'm good."
Cut to a scene of the streets, people walking in great bustling crowds.  We settle on a view of a humble building at the corner of a crosswalk.  Music begins to climb.
VELMA
"And the episodes?"
SHAGGY
"Good."
We enter the building from a first-person shot, walking into an elevator.  Cut to a hallway, settling on a door with a sign reading "DR. VELMA DINKLEY, PSYCHOLOGIST."
VELMA
"What about the voices?"
SHAGGY
"Good."
Cut to the interior.  VELMA peers over a clipboard at SHAGGY, sitting in a chair across from her.
VELMA
"And the hallucinations?  This…other personality?"
SHAGGY looks over her head to her desk, upon which sits a colossal, snarling hound, grinning with sharp teeth (SCOOBY).
SHAGGY
"…good."
Music begins in earnest.  Cut to next scene.  Dark city streets, police tap everywhere.  SHAGGY flashes a dirty badge to cops as he pulls his way under the tape.  A blonde, good-looking detective grins as he shows up.
FREDDY
"Norville, you son of a bitch.  You made it."
SHAGGY
"Yeah.  Well.  You called."
FREDDY
"I wasn't sure they'd let you out of the looney bin so quick, eh?  Thought maybe they'd want to keep you until all the voices in your head stopped."
SHAGGY looks at FREDDY blankly.  FREDDY laughs and claps him on the shoulder.
FREDDY
"Just kiddin', man.  You know how we do it."
SHAGGY
"I used to.  What've you got here?"
FREDDY
"A real fucking mess is what I've got."
Cut to flashes of images.  A body draped in a sheet.  A pool of blood.  A face of glistening meat.  Only half a second per image.  FREDDY's voice dubs over.
FREDDY
"Third one in two months.  Same M.O., every time.  Killer leaves plenty of mess, but takes the face with him when he leaves."
SHAGGY
"So, you thought you'd share this with me.  You know how I feel about this shit."
FREDDY
"Yeah, I know that.  Because I know you're the best at this shit.  We fucking still tell the same stories at the bar about your glory days, Norv."
Cut to images of newspaper clippings featuring SHAGGY reading: "BOY DETECTIVE MAKES GOOD," "KILLER UNMASKED," "GHOST HOAX HALTED."
SHAGGY
"That was a long time ago, Jones.  I don't do that shit anymore."
FREDDY
"You'll want to do this one, pal, trust me."
SHAGGY
"What makes you so sure?"
FREDDY
"She asked for you, personally."
Music hits its climax.  Cut to blake manor.  DAPHNE coils over a desk, smiling seductively at SHAGGY.
DAPHNE
"The killer's striking at people…close to me, Norville.  He's sending me a message.  I can't have people like that in my city."
SHAGGY
"I do this, I'm not doing it for you."
DAPHNE
"Not even if I give you a Scooby Snack?"
SHAGGY slams his fists on the table.
SHAGGY
"DO NOT.  JOKE ABOUT THAT."
Pan to several scenes in quick succession: SHAGGY kneeling beside a corpse, weeping; SHAGGY chasing someone down an alleyway, gun drawn; SHAGGY peering into some dark corner with a flashlight; and everywhere, blood, corpses, death.  Music begins to climb.  Flash across the screen: "COMING THIS FALL…"
SHAGGY (voiceover)
"It's too much.  Everywhere I fucking look, nothing but blood and bodies.  No faces."
Cut to scene, SHAGGY sitting in a corner, weeping.
SHAGGY (voiceover)
"Everyone around me's wearing a fucking mask.  I don't know what's real or what's fake anymore."
Cut to scene, VELMA kneeling down to console him.
SHAGGY (voiceover)
"Everyone says you're not real, that you can't talk.  But sometimes it feels like you're my only friend."
Cut to scene.  The large, snarling hound stares intently at SHAGGY and smiles.
SCOOBY
"Ruh roh."
Cut to text: "THE MYSTERY CONTINUES."
Cut to scenes, SHAGGY chasing down criminal, tackling him to the ground.  Pointing a gun to his head, laughing maniacally.
SHAGGY
"Now, let's see who's really the monster…"
Gunshot.
Cut to black.
Plain white text: "WHERE ARE YOU."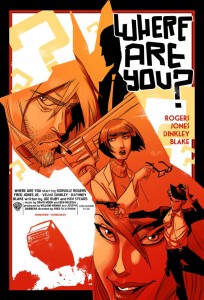 Yeah.  Essentially, Michael Lunsford and I both have way too much time on our hands.